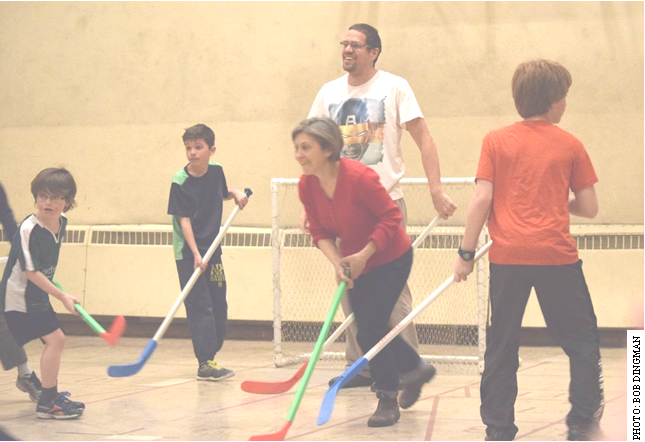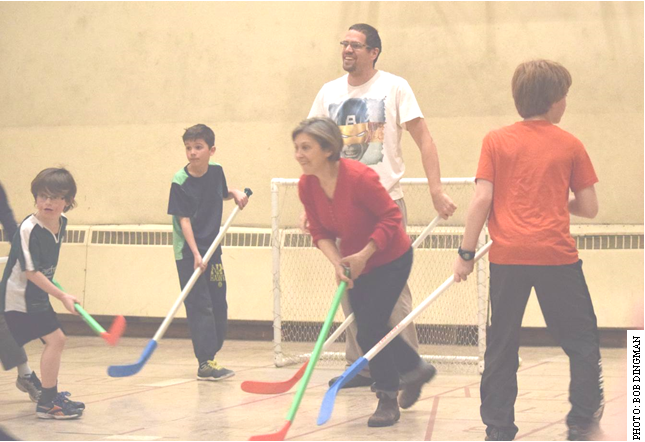 The annual Rockway Church retreat took place on the afternoon and evening of Saturday, February 7 and morning of Sunday, February 8. It was held again at the church, recognizing this would be the last year we will be able to hold it in the Zion building.
The theme was "Building the Church", playing on the fact that we will be in our new building at Olivet by this time next year. The organizing committee was capably led by Maria Boehm.
Saturday afternoon was a time for intergenerational play and eating junk food. Play took many forms. Some skated and tobogganed outdoors. Others baked, knotted a comforter, did jigsaw puzzles, or played crokinole, ping-pong and floor hockey.
The ping-pong tournament organized by Lois Brubacher was a big hit. Pastor Scott was the eventual winner, defeating Marcus Shantz in the final. He was aided by the fact that the usual winner, Matt Snider, was unable to attend. The star of the event, however, turned out to be Marty Shantz. Marty and his brothers got a ping-pong table for Christmas after being promised by their father that they were getting a "game system". They have clearly been practising. Although Marty did not have a lot of clearance above the table his accurate ball striking took him to victories over Lew Brubacher and Lucas Sauer, before losing to Scott. Even in his match against Scott, Marty held his own, losing by only four points. His brother Nate redeemed the family honour by winning the consolation round.
Someone recalled that the ping-pong table was donated by Blaine and Esther Millar several years ago. Even though it is a bit warped, it should make the trip to Olivet for sentimental reasons. Blaine would be pleased to know it is still "in play".
The floor hockey game after the great potluck supper was played before a "standing room only" crowd. Kids played the adults in an epic match. Cam Dingman, Tim Shantz and Isaac Weber assembled a formidable lineup of kids. Cam demonstrated great coaching capability as he mixed and matched his lineup like a pro. The adults eventually prevailed, but not by much.
By the end of the game everyone was tired and ready to head home, and so the previously scheduled indoor "campfire" sing-a-long was cancelled.
On Sunday morning a creative event called "Building a Worship Service" was organized by Ann Weber Becker. Participants assembled at tables of eight or fewer to take part in a number of fun but thought-provoking activities. Pastor Scott was presented with a couple of random scripture verses and given only a few minutes to ad lib a sermon based on them. He did a great job of including both humour and thoughtfulness, thus demonstrating that ping-pong is not the only thing he's good at!
Thanks to Maria and her committee (Brian Hunsberger, Byron Weber Becker, Tim Shantz and Isaac Weber), as well as Andrea Charette, Marg Butt and all the activity leaders, and Ann Weber Becker, Shanna Braden and Scott Brubaker-Zehr and the Worship Committee for all the effort they put into planning a great weekend. The church may not have been completely built, but a good foundation was laid.