Rockway's Winter Retreat – February 6-7, 2016
Rockway Church's pending move to the former Olivet United Church site on Onward Avenue, was the theme of this year's church retreat held on February 6 and 7 at the Zion site. An intergenerational service on Sunday was preceded by fun and games on Saturday afternoon and evening. The activities included knotting a comforter, shooting crokinole, playing life-size Dutch Blitz (in the gym), running the annual ping pong tournament, and singing camp songs — and, of course, eating together.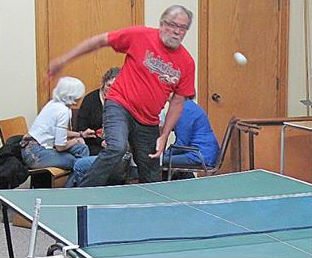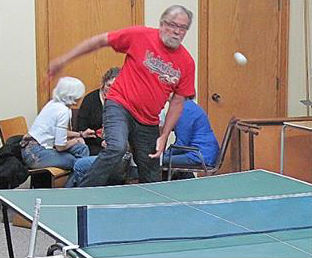 The ping pong tournament is the most competitive event, and always draws a crowd. This year a first-time entrant, Ron Harder, made his mark. Ron defeated perennial finalist Marcus Shantz in the quarter finals, only to lose to Scott Brubaker-Zehr in the semi-finals. In the other semi-final match, Nathan Shantz gave the ultimate champ, Matt Snider, a run for his money in a closely contested match that ended 21-18. Matt then defeated Scott in a best of three final, 2 games to 1. In the consolation elimination, Lois Brubacher took the final against Ann Weber Becker. A good spirit of "sportspersonship" prevailed throughout.
The activities were interrupted for a pot-luck supper around 5:30 pm. After supper, the ping pong tournament concluded, and a sing-along led by Lisa Shantz, Tim Plett and Bob Janzen wrapped up the evening. A big THANK YOU to Andrea Charette for organizing ALL the Saturday activities and potluck.
On Sunday, Ann Weber Becker led a highly interactive, intergenerational service on the theme for the day: "On the Move: Packing with a Purpose". The theme was scripturally underpinned by the journey of the children of Israel from Egypt to the land of Canaan as recorded in the book of Numbers. Ann's husband Byron, built a lovely wooden box with handles to represent the Ark of the Covenant, which served to house important items that we wish to take to our new "promised land" on Onward Ave.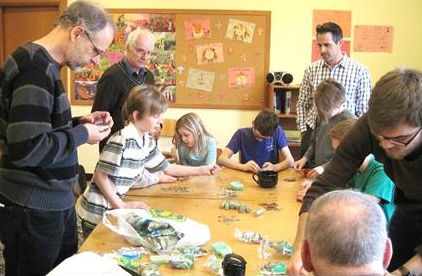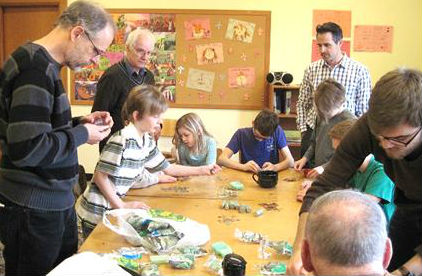 In the first hour people self-selected into groups under the following themes — Art (Linda Janzen); Drama (Scott Brubaker-Zehr); Music (Bob Janzen); Treasure (Byron Weber Becker); Stories (Shanna Braden); Food (Marg Butt); and Dance (Ann Weber Becker).
Each group met separately to prepare something that they could contribute to the Ark that would be a good memento to take with us to the new church location. Groups then returned for the worship service where each group had a chance to present its creation and place it in the Ark. The presentations were interspersed with songs and prayers. The dance group led a march around the sanctuary, then proceeded to the chapel where the service ended with the benediction. A big THANK YOU to Ann, and also Shanna Braden and Scott Brubaker-Zehr for organizing such a creative service, and to Byron for building the colourful Ark.
By Brian Hunsberger